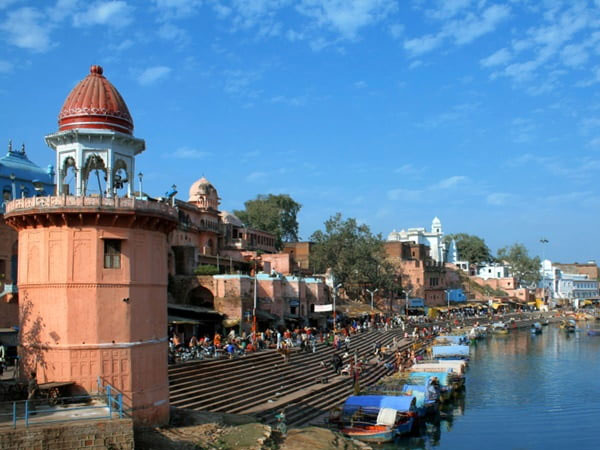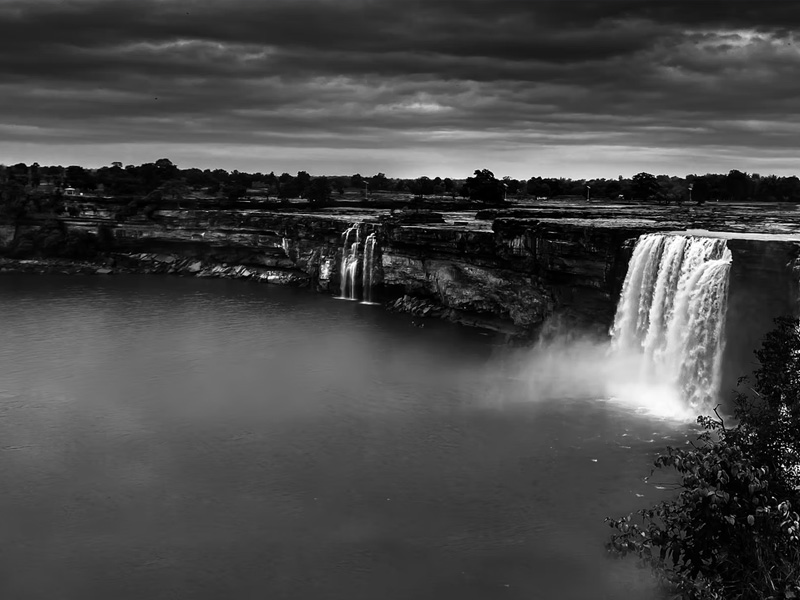 Chitrakoot, a small town situated in the north Vindhyan range, is located over the districts of Chitrakoot in Uttar Pradesh and Satna in Madhya Pradesh. It holds great importance according to Hindu mythology and the epic Ramayana. Legends have it that Chitrakoot was the place where Lord Rama, his wife Sita and his brother Lakshmana stayed for eleven and half of their fourteen years of exile making it a reverred site among pilgrims.
According to Ramayana, Chitrakoot was the place where Bharata, brother of Ram came to visit Ram and ask him to come back to Ayodhya and rule the kingdom. It is also believed that the principal gods of Hindus, (Brahma, Vishnu, and Shiva) took incarnations here. This divine city is also known as the 'Hill of many wonders' and it totally justifies the name. It is indeed the gift of nature and the gods.
Chitrakoot is also the place where Goswami Tulsidas, author of 'The Ramcharitmanas', spent many years of his life..
Thus, Chitrakoot is rightly called the Place of Many Wonders!
Places to Visit In Chitrakoot
Kamadgiri
Kamadgiri is a forested hill with the base surrounded by multiple Hindu temples on all sides and is considered to be the heart of Chitrakoot. The pilgrims perform Parikrama around this hill with the belief that all their sorrows will be ended and their wishes will come true by doing so. The name of Kamadgiri is derived from Kamadnathji, another name of Lord Rama and it meant fulfiller of all wishes. There are several temples on the 5 kilometres path of the Parikrama, one of the most famous being Bharat Milaap temple, where Bharat met Lord Ram and convinced him to come back to his kingdom. Some part of Kamadgiri Mountain falls in Uttar Pradesh, while some in Madhya Pradesh.
GuptGodawari
This is a pair of caves, in which there is a tiny entrance, through which one can barely pass. Water trickles down in streams through the other cave, which can rise up to the length of our knees. It is said that Lord Rama and Lakshman once held their secret meetings, which is validated apparently by the throne like structures present in the cave.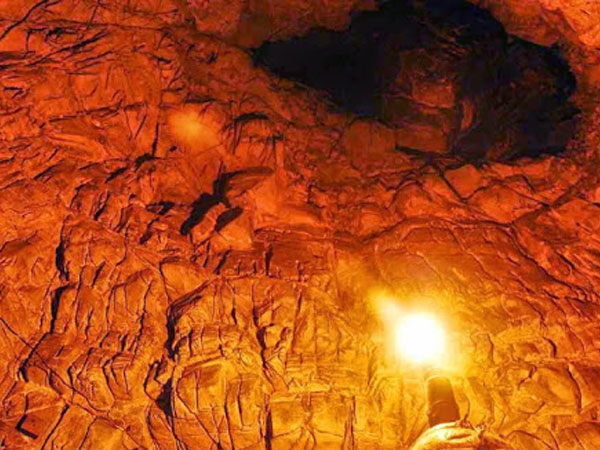 Ramghat
Ramghat is one of the most popular tourist attractions in Chitrakoot. The serene ghat lining the Mandakini River is where Lord Ram, Sita and Lakshman appeared in front of the famous poet Tulsidas and he used to sit on the riverside and write Ram Charitra Manas.
Hanuman Dhara
Hanuman Dhara is the name of the spring which sprouted from a rock when Lord Ram shot an arrow into it to calm down an enraged Hanuman when he came to this place to extinguish the fire that was caught in his tail after he returned from burning Lanka.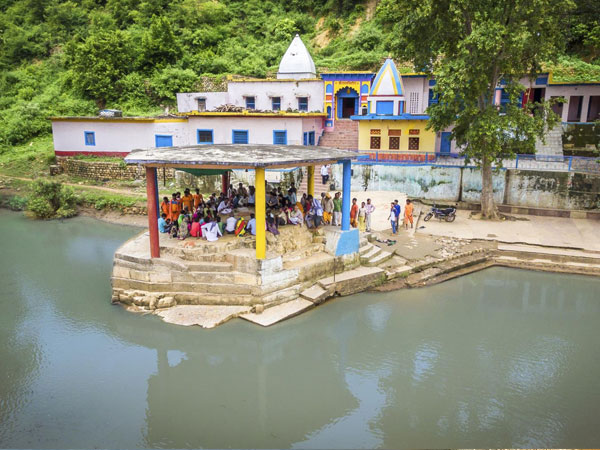 Sati Anusuya Temple
The story of Anusuya says that she sprinkled some special water over the holy trinity Brahma, Vishnu and Maheshwar and this led to their incarnations. Also it is said that Anusuya offered sincere dedication to praise the god to end famine and thus the town was blessed with the river Mandakini.
SphatikShila
SphatikShila is a place with two massive rocks which are believed to have the footprints of Lord Rama and Goddess Sita. SphatikShila literally means crystal rock and is located amidst dense forests, close to JankiKund on the banks of river Mandakini.It is said that Sita and Rama were relaxing here and a crow pecked the feet of goddess Sita which agitated lord Rama and he took off the eyes of the crow, however the crow was actually a form of Jayant, son of Lord Indra.
Bharat Milap Temple
Believed to the place of the meeting of four brothers during the period of exile of Lord Rama, Bharat Milaap Temple is a very important temple of Chitrakoot.
Package Details
Duration: 1 Day
Destination: Chitrakoot
Cost:On Request
Our Courtesy: 1 Bottle Of Mineral Water Per Pax Per Day, Juice/Seasonal Fruit During Long Journey Only.
Download Brochure
TOUR COST EXCLUDED
Any Airfare, Entrance fee, Insurance cover, Any train ticket, Customer tips to Guide and Driver , Any visa fee, expenses of personal nature such as Liquor, Laundry, Room service, phone call, camera fee, Christmas & New year supplement charge. Any additional caused because of flight delays/rescheduling cancellations or conditions beyond our control.
Popular Package
Enquire for Chitrakoot
Address
Flat No S18/38-A, A5/22 Mint House Colony,Opp Hotel Taj, Nadesar Varanasi-221002 (INDIA)